Poland (M2TW:K Faction)
From TWC Wiki
Jump to navigation
Jump to search
Poland are an unlockable faction in the Teutonic Campaign in the Kingdoms expansion for Medieval II: Total War.
Poland in the Teutonic Campaign
Starting Position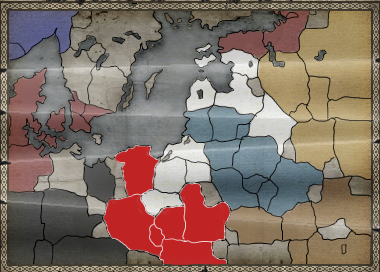 In the Teutonic Campaign, Poland is cornered between the Holy Roman Empire to the west, the Baltic Sea and the Danes to the north, and to the east the Teutonic Order, Lithuania and the Mongols. It is perhaps one of the weakest starting positions of the game. They can grab a few rebel settlements to expand, but soon enough war will come. Squeezed between several countries they'll have to choose their enemies wisely, or they will risk becoming surrounded on all sides.
Units
Same as original Game
Strategy
See Also